General, Solo, Small Firms, Professional Development, Ethics, Law Office Technology/Management, Young Lawyers Division, Skills, COVID-19, Diversity, Equity Inclusion, Attorney Wellness
Description: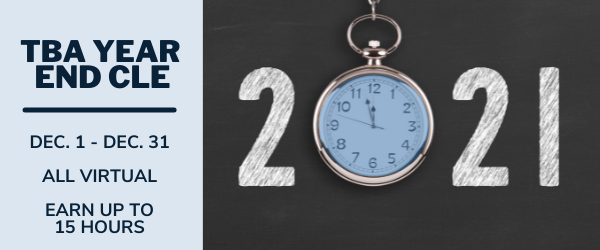 TBA's Year End CLE includes a quality mix of CLE packages providing on-demand programming and excellent customer support to get you through the finish line for your 2021 CLE requirements.
---
TBA is excited to bring you the same great content, right from the comfort of your own home or office, whether you need one hour of CLE or 15.

Don't forget, all of your CLE can be taken through approved distance learning (online) courses.

Select one of the course packages below or choose your own CLE options anytime by visiting cle.tba.org to access over 200 on-demand programs.
---
Packages by Hour:
15 Hours of CLE Fast! ALL IN Package
15.5 Hours of CLE Fast! EXTRA ETHICS Package
---
Packages by Topic:
Experience TBA Convention Package – Earn up to 5.5 hours of CLE
Tools to Help You Through Holiday (or Any) Stress Package – Earn up to 5 hours of CLE
Attorney Wellness Package – Earn up to 6.75 hours of CLE
Work Smarter Not Harder – Earn up to 4 hours of CLE
---
PLEASE NOTE: The Tennessee Supreme Court amended Rule 21 to allow all hours for the 2021 and 2022 compliance years to be earned online. All TBA CLE programs are approved distance learning courses.
---
It's not too late to join TBA and SAVE! TBA Members, you can use the prepaid CLE credits that come with your TBA Complete Membership and save on all CLE programming. Not a TBA member? Join now to start saving.
---
THANKS TO OUR SPONSORS: