Description:
Start the new year off right by attending LAW TECH '23. We are excited to return to an in person event that will feature opportunities to network with sponsors, attendees and speakers as well as various opportunities to win prizes! All CLE sessions at Law Tech are dual credit, so you can easily knock out your ethics CLE requirement in one day. Earn up to 5.5 dual CLE credits.
CLE TOPICS:
"Technology Enhanced Strategy" by Mallory Acheson
"Will ChatGPT AI Draft Your Next Complex Legal Document?" by AJ Bahou
"Analyzing Internet Advertising: What is it? How does it Work? What are the Ethical Implications?" by Bob Severn
"The Bill & Phil Show 2023: Tech Simplicity Is the Key" by Bill Ramsey and Phillip Hampton
"A Deep Dive in Virtual ADR" by Josh Offutt

ATTEND TO WIN TECH PRIZES: Attendees will have a chance to win prizes through the day! Details on specific prizes for 2023 will be revealed soon!
---
REGISTRATION OPTIONS:
Option 1: Register and Pay Now
Folks are able to pre-register to attend the entire day at a discounted rate. Click add to cart and complete your registration in advance of the program. This is the best deal to attend the entire day and earn 5.5 dual CLE hours!
PRE-REGISTRATION PRICING:

$165 for TBA Law Tech Section Members
$220 for TBA Members
$395 for Non-Members (includes TBA Membership)
Option 2: Blast Registration
If you prefer to pick and choose what sessions you'd like attend, please complete this RSVP to let us know that you plan to attend (this helps us track expected attendance numbers and plan accordingly for food). Payment will be processed at the program upon check-out depending on the number of hours attended and your membership status, see pricing details below. No cash - credit card only.
BLAST REGISTRATION PRICING:

$45 per hour for TBA Law Tech Section Members
$60 per hour for TBA Members
$75 per hour for Non-Members
---
PARKING & VEHICLE REGISTRATION:
Please note that Belmont instituted a new visitor parking policy. Please be sure that you register for a visitor permit ahead of your visit to campus via this link: https://belmont.aimsparking.com/. PARKING IS AMPLE AND FREE, BUT YOU DO HAVE TO REGISTER YOUR VEHICLE.
The Baskin Parking Garage is located under the Randall & Sadie Baskin Center, which is where the law school is located. When you enter the parking garage, on your left you will see a small room with an elevator. You will take the elevator to the first floor (Star 1) and then check-in at the registration table.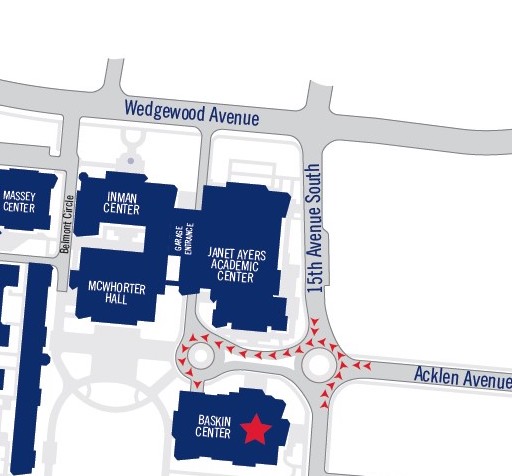 ---
SAVE MONEY: Use the prepaid CLE credits that come with your TBA Complete Membership. Not a TBA member? Join now to start saving. Not a Law Tech section member? Join the section for additional savings.